SPLASH : Vinyl Graphics Decals Stripes Kit (Universal Fit Shown on Small Midsize Car)
SPLASH : Vinyl Graphics Decals Stripes Kit (Universal Fit Shown on Small Midsize Car)

________________________________________
Product Description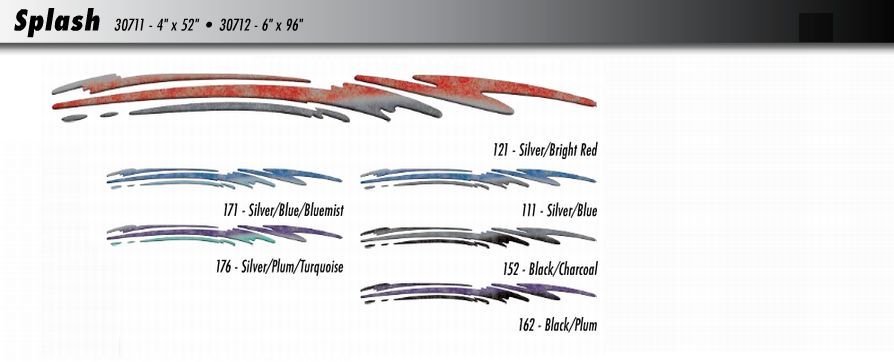 SPLASH

: Universal Style Graphics Kit
Universal Fit for many makes and models

4" x 52" or 6" x 96"

: Choose size when you order!
Left and Right Sides Included
Extremely Durable Digitally Airbrushed Vinyl Graphics

_______________________________________________

Color 121 Silver / Bright Red
Color 111 Silver / Blue
Color 152 Black / Charcoal
Color 162 Black / Plum
Color 171 Silver / Blue / BlueMist
Color 176 Silver / Plum / Turq.
_______________________________________________

Digitally Airbrushed Styles from Auto Trim Express!

Digitally airbrushed vinyl graphics for professional restylers and auto dealers, and now available for the do-it-yourselfer! Great for your car, truck, boat, plane, motorcycle, RV, horse trailer and more!


Extremely durable car decals on 3M adhesive backed vinyl, that will give you years of style on your ride! There are many designs and sizes of automotive graphics to choose from so browse what we have to offer from Auto Trim Express!

Add this graphic to your vehicle to CREATE and CAPTURE the excitement of setting your ride apart from the crowd! Awesome DESIGN, easy to position and install! UNLEASH your vehicle's potential! Or gain by converting your old ride to add value and PROFIT! Get INSPIRED at a very affordable price! Order this graphic today!

Remarkable look, at an amazing price!

Extremely Durable Weather Resistant 2 mil.Vinyl

Click the installation link, for examples on how you CAN do it yourself!
Product Reviews
Write Review
This is just a sample of our feedback coming from thousands of happy customers who have purchased from our online sales website www.moproauto.com, as well as eBay and other affiliate websites! You can buy with confidence knowing that other people like you have enjoyed the products we offer!
2,045 Feedback received (viewing 1-50)

Feedback
From Buyer/price
Date/time
thanks

azerfh ( 54

)

May-14-2017
Complete 10" Rally Racing 3M Pro Vinyl Stripes Decals Graphic 2013-2015 Mustang (#151035713082)
Very happy with the decal still had a professional shop put them on look great!

jjjevans ( 30

)

May-14-2017
Split Hood 3M Factory Graphic Decal Stripes 08 09 2010 2011 2012 2013 Challenger (#151035712366)
Fits like a glove. Seems like good material.

cmz750 ( 317

)

May-14-2017
Force Hood Factory Style Screen Print Decal Stripe Graphic 2008-2013 Ford F-150 (#190831488831)
nice quality 3m product

flyingfcustoms ( 45

)

June-14-2017
Split Hood Slim Rear Quarter Panel 3M Stripes Decals Graphics 2011-2013 Charger (#190831485734)
US $89.99
great people to deal with

studebaker524 ( 114

)

June-14-2017
WICKED Vinyl Graphic Decals Stripes Dodge Chevy Ford Truck Car TOYOTA TUNDRA (#151067643267)
Fast delivery

losthedon254 ( 39

)

June-13-2017
Hash Mark Double Bar Hood Fender 3M Stripes Vinyl Graphic Decal Chevy Corvette (#190831487450)
nice product shipped as described, would do business with again

carquest12780 ( 28

)

July-13-2017
2010 CHALLENGER DUEL Side Stripes Graphic Decals - Pro Grade 3M Vinyl 975 (#190868440531)
Great product. Fast shipping.

panteraufo ( 330

)

July-12-2017
Complete Retro Boss 302 Style Hood Side Graphics Decal Stripes 2013-2014 Mustang (#151035713081)
Excellant item. Very fast shipping.

jamesd732 ( 154

)

July-10-2017
2013 Hash Style AVENGER DOUBLE BAR Decals 3M Stripes Hood Vinyl Graphics 10W (#151067605752)
A+++ Transaction

radew1 ( 153

)

July-09-2017
WICKED Vinyl Graphic Decals Stripes Dodge Chevy Ford Truck Car TOYOTA TUNDRA (#151067643267)
Nice Quality! Well Packaged!! looks sick on my black 09 FX4 w/9" lift!! thnx!

stayloco.lighting ( 131

)

Aug-08-2017
Predator 2 Raptor Style Side Bed Graphics Decals Stripes 2008-2013 Ford F-150 (#151035714167)
A+++ Seller item just as described! Extremely pleased with my purchase thanks!

asolano00 ( 160

)

Aug-08-2017
Predator 2 Raptor Style Side Bed Graphics Decals Stripes 2008-2013 Ford F-150 (#151035714167)
Nice item. Thank you

rbarr007 ( 308

)

Aug-08-2017
Upper Dual Red Green Italian Flag Stripes Vinyl Graphic Decal 2011-2014 Fiat 500 (#151035713909)
Excellent service, great product! Highly recommend.

flightyid ( 5 )

Aug-08-2017
Eruptor Lower Rocker Panel Vinyl Graphic Decal 3M Stripe fits Ford Dodge etc. (#151035713229)
Stripes came out awesome. Thanks!

hoose84 ( 225

)

Aug-06-2017
Complete Retro Boss 302 Style Hood Side Graphics Decal Stripes 2013-2014 Mustang (#151035713081)
A-OK by me!

000carter000 ( 240

)

Aug-04-2017
VANGUARD Vinyl Fade GRAPHICS Decals ROCKER STRIPES - Professional 281 (#190852137633)
Product as described, fast delivery, very pleased A++++++++

damihik ( 902

)

Aug-01-2017
WHISPER - Professional Vinyl GRAPHICS Stripes Decals Tats * FLOWERS * 820 (#190859372571)
Thank you for the Camaro hood stripes

lloyd9427 ( 473

)

Jul-31-2017
Hood Spears Cowl Spikes Stripes Decals Vinyl Graphic SS RS LS 2010-2013 Camaro (#190831485273)
Thanks

portales26 ( 21

)

Jul-31-2017
1 Inch X 150 Foot Solid Roll Pinstriping Pin Stripes Trim Decals * 3M Vinyl W24 (#151079785430)
Thanks!

hmksdladybug ( 167

)

Jul-30-2017
FASTBACK 2 - 3M Pro Grade BOSS Style Mustang GRAPHICS Stripes Decal 2007 705 (#151067598105)
Thanks these stripes will Look great on my New Mustang.

gjohnson14 ( 181

)

Jul-30-2017
PRIME 1 Boss 302 Style Hockey Decals 3M Vinyl Graphics 2013 Pro T40 Ford Mustang (#190874163619)
as described

darin1966vette ( 84

)

Jul-28-2017
2010 Chevy Camaro WIDE Rally Racing Stripes Decals - Pro Grade 3M Vinyl SS 306 (#151059027688)
I am pleased with the decal stripe i bought, fast mailin,responed to my email!

genocar ( 11

)

Jul-28-2016
2012 F-150 FORCE ONE Screen Print Side Hockey Decals Stripes Vinyl Graphics 2WS (#151048941686)
Thanks.

towithome2 ( 29

)

Jul-28-2016
Force Two Solid Side Hockey Decals Stripes Vinyl Graphics 2008-2013 Ford F-150 (#190831488739)
Very quick delivery. Decals are very high quality and look great.

skycoral ( 113

)

Jul-26-2016
Complete Retro Boss 302 Style Hood Side Graphics Decal Stripes 2013-2014 Mustang (#151035713081)
Complete 10" Rally Racing 3M Pro Vinyl Stripes Decals Graphic 2013-2014 Mustang (#151035713082)
Shipped Quick! Great Transaction!

nascarkid18 ( 98

)

Jul-26-2016
Dodge Charger GRAPHICS STRIPES Hood 3M PRO Grade Vinyl Trunk Decals * 2009 645 (#151079774372)
Very happy!!

bwat-u-r ( 22

)

Jul-22-2015
FASTBACK 2 BOSS Style Mustang GRAPHICS - 3M Pro Grade Stripes Decal 2008 256 (#151079777759)
Racing Rally 10" Hood Roof Trunk Stripes Graphics Decals fits 2005-2009 Mustang (#151035713007)
Thanks

2011alanpaden ( 47

)

Jul-19-2015
CHEVY SSR Custom Style PAINTED Spoiler Wing 2006 2005 2004 (#151030096077)
thank you

car_gallery ( 148

)

Jul-19-2015
2012 Dodge Challenger BELTLINE Graphics Stripes Decals* 3M 868 (#151067606008)
Good transaction.

ziglor02 ( 5 )

Jul-19-2015
Dodge CHALLENGER CLASSIC Graphics Stripes Decals - Pro Grade 3M Vinyl 2010 914 (#190859385642)
Looks Great on the car Thank You Fast Shipping Great Communication

darrel1094 ( 254

)

Jul-18-2015
R-Sport Convertible 3M Factory Hood Trunk Spoiler Stripe Decal 2011-2013 Camaro (#151035712147)
FAST Shipping ,Very nice Vinyl, Good instruction, easy to apply A++

7188ralph ( 117

)

Jul-18-2014
Force One Solid Side Hockey Decals Stripes Vinyl Graphics 2008-2013 Ford F-150 (#151035714423)
Great Seller

verlonwrightauto ( 41

)

Jul-18-2014
3/16th X 150 FT Roll Pin Striping Stripes Trim Decals Solid * Pro Grade 3M Vinyl (#190843394816)
Great seller with a very nice product thanx again Rob C

r0b99 ( 299

)

Jul-17-2014
Original R Fading Body Side Stripe Vinyl Graphic Decal for Kia Soul by MoProAuto (#190831486370)
A+ Seller, everything perfect. Fast Shipping. Highly Recommend

eautodirect ( 536

)

Jul-16-2014
2009 Dodge Charger GRAPHICS STRIPES 3M PRO Grade Vinyl Hood Trunk Decals * 038 (#151067595855)
thanks

bryanb61 ( 332

)

Jul-16-2012
UPRISE Vinyl GRAPHICS - Professional Decals OFF ROAD TOYOTA TUNDRA 781 (#151067601721)
Tout c'est bien dérouler et tout est en bonne état

2lparadise110 ( 16

)

Jul-16-2012
ROCKER STROBE Vinyl GRAPHICS Decals Panel * Pro Grade Stripes * 278 (#151043225800)
Shipped Quick! Great Transaction and awesome stripes for my Charger

nascarkid18 ( 98

)

Jul-15-2011
2011 Dodge Charger GRAPHICS STRIPES 3M PRO Grade Vinyl Hood Trunk Decals * 038 (#151067595855)
Great ebayer!! Thanks! Looking to buy more decals soon

jjmeeksy ( 33

)

April-15-2011
Dual Side Body Line Strobe 3M Stripe Graphic Decal RT 2008-2011 Dodge Challenger (#190831485660)
Easy transaction, would buy again from this seller

josedr24 ( 191

)

Sept-14-2011
Volkswagen Jetta VW Painted Spoiler Wing ** 2005 2004 2003 2002 2001 2000 1999 (#190827026676)
Excellent Product! Super Fast Free Shipping! Thanks!

soma7408 ( 347

)

Sept-14-2011
2011 Dodge CHALLENGER HOOD Vinyl Graphic Decals Stripes * 3M Professional 411 (#190859371659)
A++++ fast shipping great blackout set!!!!

rob50coins ( 735

)

Oct-14-2011
Camaro BLACKOUT 2011 Decal Stripe Graphic FRONT SS VENT / 3M Pro Vinyl 357 (#151067594471)
Thanks great vinyl graphics

superman.jg ( 44

)

Oct-14-2011
FORD FOCUS Factory Style PAINTED SPOILER Wing * * 2013 2012 (#151030096895)
Fast shipping! A+++ Seller!!

makaldes87 ( 65

)

Jul-13-2010
UPRISE Vinyl GRAPHICS - Professional Decals OFF ROAD TOYOTA TUNDRA 781 (#151067601721)
Great seller,would buy from anytime,AAA+++!!!!!

vintagesnopro ( 379

)

Jul-13-2010
2013 CHALLENGER - 3M Pro Side DUEL Strobe Side Stripes Graphic Decals RT1 (#151059032784)
Good paint match.

cyber-salvage ( 163

)

Jul-13-2010
PONTIAC SOLSTICE Custom PAINTED SPOILER Wing 2008 2007 2006 (#190827025960)
Fine transaction, thank you!

cowboygold ( 1773

)

Jul-12-2010
Predator 2 Raptor Style Side Bed Graphics Decals Stripes 2008-2010 Ford F-150 (#151035714167)
this pin stripe will look nice on our charger!

bluespeed53 ( 101

)

Jul-11-2010
4/16th X 150 FT Roll Pin Striping Stripes Trim Decals Solid * Pro 3M Vinyl JQ7 (#151067603740)
Find Similar Products by Category