Auto Trim Express Digitally Airbrushed Vinyl Graphics Kits!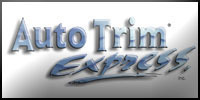 Auto Trim Express is a vinyl graphics line featuring "digitally airbrushed" vinyl graphics. Dozens of designs and 100's of vinyl color combinations, provide a wide selection of options. One that is sure to suit your project perfectly. When Auto Trim Express first started, the designs were hand airbrushed using automotive paints. As technology progressed, the images were all redesigned to be printed digitally, while maintaining the same look and feel of hand airbrushed designs. This is where the term "digitally airbrushed vinyl graphics" comes from. Digital airbrushing allows a more consistent look and finish on all the graphics produced.
Digitally Airbrushed Vinyl Graphics with Classic Designs
Auto Trim Express also offers a complete line of pinstripes - perfect for finding a stripe to match your new vinyl graphic!
Digitally Airbrushed Vinyl Graphics! Premium Automotive Vinyl.
A Size for Every Vehicle! Most of the Auto Trim Express designs come in multiple sizes.
More Designs give you More Choices! Hundreds of style combinations to choose from . . .
Fast and Free Shipping! Most Auto Trim Express Kits ship within 24 hours. Exceptions Apply.