Camo Body Side Vinyl Graphics and Striping Kits | Camouflage Camo Vinyl Graphics, Body Decals, and Rocker Panel Stripes by Style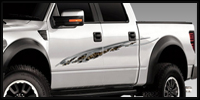 MoProAuto features only the best Camouflage Camo Body Side Vinyl Graphics, Body Decals, and Rocker Panel Stripes.
Wild Wood Camo features a non-repetitive pattern design theme for large truck and other applications. If you are looking for a camo vinyl graphic style that is different from the norm, more and more customers are looking to the camouflage aftermarket to develop their own vinyl camo styles and striping patterns that fit on their cars, trucks, SUVs, Jeeps and other vehicles without repeating!
Camouflage Body Vinyl Graphics in Wild Oak, Oak Breeze, Wild Oak Pink and Avalanche Styles
Wild Wood Camo offers camouflage vinyl graphics and pin striping wraps and is a premium cast vinyl. This cast vinyl provides excellent print quality and will keep the vinyl once installed free of edge lifting, peeling, and cracking long term. These camouflage vinyl materials are removable and won't leave behind any adhesive residue. Here you will find all camouflage vinyl graphics, camouflage decals, and camouflage vehicle wrap kits, Camo Bed Side Rally Stripes, Camo Body Side Graphics, Camo Vinyl Decals, Camo Pillar Post Decals, Camo Rear Window Graphics, Camo Rocker Panel Stripes, and other vinyl camo styles that are currently offered by Wild Wood Camo. Please choose a category to narrow down your search to find a camo patttern and vinyl camouflage style that is right for your project!
"Universal Fit" for small and large truck applications, in today's hottest camo patterns, colors and design styles!
Featuring Camo Styles from Wild Wood Camouflage, and more!
Browse our selection of Camo Vinyl Graphics now!