2015-2017 Ford F-150 Stripes, F-150 Truck Decals, and F-150 Vinyl Graphics by MoProAuto Pro Design Series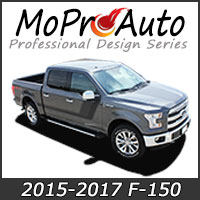 We have 2015 2016 2017 Ford F150 Decals, F150 Stripes, and F150 Vinyl Graphics featuring the Highest Quality and Superior Fitting Vinyl Graphic, Decal, and Stripe Kits for the 2015 2016 2017 Ford F-150 Series, Raptor, Appearance Package, Tremor FX. Specializing in Ford Truck Racing Stripes and Door Rally Stripes Kits, we also have F150 Vinyl Kits available for Hood, Roof, Trunk, Spoiler, Side Door, Lower Rocker, Rear Fender and more! Pre-trimmed for little to no cutting, and offering exact replicas of many "OEM Factory Style" vinyl graphics, with other designs appealing to our automotive dealership networks and retail customers alike. We only offer the highest quality Premium Cast Automotive Vinyl Striping available.
2015 2016 2017 F-150 Stripes, F150 Decals & Graphics for this American Classic Truck
Our Ford truck vehicle specific vinyl graphic and decal kits have been precisely designed, measured, and test fitted to replicate "Factory OEM Style" vinyl graphic kits for the most professional job possible. We provide these vinyl stripe kits to professional restylers and automotive Ford dealerships across the country! Don't you want the best quality for your Ford F-150? You purchased a $20k, $40k, or even $60,000 vehicle. Many vinyl graphic kits purchased from a dealer parts department or retail outlet will easily cost you $500 - $1000, and then some! We offer the same premium factory quality vinyl at the best prices possible! If you truly value your vehicle, then please accept a higher quality product by choosing a MoProAuto premium line Professional Design Series vinyl graphic!
Pro Quality Ford F-150 Door Decals, F150 Side Graphics and F150 Body Stripes
Professional Quality F-150 Decals! We offer 3M Scotchcal Automotive Grade High Performance vinyl, along with five-12 year cast vinyl films from 3M, Avery, and Ritrama. Wet Install and Dry Install vinyl options also available. Pro Styling and Perfect Fit! Vehicle specific vinyl graphic kits - precisely designed, measured, and professionally test fitted. Easy and Ready to Install Ford F-150 Vinyl Graphics! Follow the included instructions or use a qualified professional installer in your area! Fast and Free Shipping! Most Pro Design Series Vinyl Graphics produced when ordered and ship within 24 hours. Order Now!