Vinyl Decal Kits | 4x4 Logos, Vinyl Pin Striping Flames, Decorative Vinyl Graphics and Decal Kits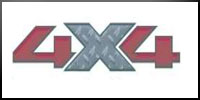 MoProAuto features only the best 4x4 logos, vinyl pin striping flames, and decorative vinyl graphics and decal kits. MoProAuto only carries professional pin striping rolls, stripe decal kits, stylistic graphic pin striping, pin stripe accent kits, and upper body vinyl accent tapers. Adding a simple pin striping to your vehicle will show your individuality, and break up the plain looks of a stock vehicle. Pin striping (pinstriping) is the application of a very thin line of vinyl generally used for decoration. We offer pin striping by 3M, Avery, and Ritrama, for cars, trucks, SUV's, boats, RV's, and the automotive restyling industry.
Buy Automotive Decal Kits in Popular Styles
Auto pinstripe tape allows a pinstripe professional to create a clean vinyl line without damaging a vehicle's exterior with a painted accent stripe. Our automotive pinstriping tape comes in a wide variety of colors, styles, and widths, according to the needs of the project. Pinstriping tape can come in a wide variety of vibrant and subtle hues, in both metallic and opaque colors. Vinyl pin striping from automotive pinstripe manufacturers are easy to apply with a peel-and-stick application. Pin striping will adhere to any automotive surface. Another benefit of pin striping over painted accent stripes is the ease to apply around curves and the contour surfaces of a vehicle, and is durable, flexable, and easy to remove if needed. Find your own style of auto pinstriping tape that best matches the vehicle model for installation.
MoProAuto offers pin striping rolls in dual line widths of 3/16th, 4/16th, 5/16th, 8/16th, 8/32nd, 9/32nd, along with dual color and two tone styles. Most pin striping rolls come in 150 foot lengths.

MoProAuto also offers solid color roll striping in widths of 1/2 inch, 1/4 inch, 3/4 inch, 7/8 inch, 1 inch, 2 inch, 3 inch, 4 inch, 6 inch, 8 inch, 10 inch, and 12 inch sizes.
Automotive Pin Striping and Roll Striping in many popular styles and sizes.
Pin Stripe Accent Decals are "Universal Fit" for thousands of versatile applications in today's newest colors and design styles!
From cars and trucks to vans, SUV's, trailers, boats and more, you will find a fantastic pin striping style for your application!
Browse our selection of pin striping styles now!