MoProAuto Pro Design Series
The Original MoProAuto Pro Design Series Vinyl Graphics, Auto Stripes, and Decal Kits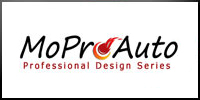 Now available for purchase by the general public, the "Highest Quality and Superior Fitting Vinyl Graphic, Decal, and Stripe Kits for Today's Hottest Muscle Cars!" Specializing in Racing Stripes and Rally Stripe Kits, we have automotive vinyl kits available for Hood, Roof, Trunk, Spoiler, Side Door, Lower Rocker, Rear Fender and more! Featuring exclusive pre-trimmed and "cut-to-fit" vehicle specific vinyl kits for little to no cutting or trimming on the vehicle. Offering exact replicas of many "OEM Factory Style" vinyl graphics, with other designs appealing to our automotive dealership networks and retail customers alike. We only offer the highest quality Premium Cast Automotive Vinyl Striping available. Our vehicle specific vinyl graphic and auto decal kits have been precisely designed, measured, and test fitted to replicate "Factory OEM Style" vinyl graphic kits for the most professional job possible. We provide these vinyl stripe kits to professional restylers and automotive dealerships across the country! Don't you want the best quality for your vehicle? You purchased a $20k, $40k, or even $60,000 vehicle. Most automotive vinyl graphic kits purchased from a dealer parts department or retail outlet will easily cost you $500 - $1000, and then some! We offer the same premium factory quality vinyl graphics at the best prices possible! If you truly value your vehicle, then please accept a higher quality product by choosing a MoProAuto premium line Professional Design Series vinyl graphic!
Professional Quality Vinyl Graphics
We only offer Premium Automotive Cast Vinyl Films, featuring vinyl by either 3M, Avery, or Ritrama. These professional automotive grade vinyls are designed to last five to 12 years in vertical positions depending on the vinyl series purchased and post installation care given.
Choose "Wet" or "Dry" Application Vinyl Film
Choose a classic "wet" installation film featuring 3M Scotchcal High Performance Grade, Avery Supercast, or Ritrama cast vinyl films. For modern "Air Release Technology", choose a "dry" installation wrap film featuring 3M 1080 or Avery Supreme Wrap. Both options are available for a majority of our "Pro Design Series" vinyl graphic kits.
Pro Styling and Perfect Fitting Auto Stripes and Graphics
Vehicle specific vinyl graphic kits - precisely designed, measured, and professionally test fitted. Most of our vehicle specific vinyl graphic kits are expertly "cut to fit" by our professionals for the make, model, and year indicated.
Installed by Automotive Dealers and Professional Installers first!
Don't be fooled by imitators! Our "Pro Design Series" kits are tested fitted and sold to automotive dealerships and professional installers first, because precision and top-quality are demanded from these industry professionals. Only then do we allow these kits to be made available to the general public at special prices!
Automotive Vinyl Graphic Kits - Easy and Ready to Install
Follow the included instructions or view one of our videos for detailed vinyl graphic installation information, or contact us for qualified professional vinyl graphic installers in your area!
Fast and Free Shipping Available!
Most Pro Design Series Vinyl Graphics are produced when ordered and ship within 24 hours, with Free Shipping as an option. Order Now!
Chevy Stripes, Chevy Decals, Chevy Vinyl Graphics - The MoProAuto Original "Pro Design Series"
Dodge Stripes, Dodge Decals, Dodge Vinyl Graphics - The MoProAuto Original "Pro Design Series"
Ford Stripes, Ford Decals, Ford Vinyl Graphics - The MoProAuto Original "Pro Design Series"

2018-2020 Ford Mustang

2015-2017 Ford Mustang

2013-2014 Ford Mustang

2010-2012 Ford Mustang

2005-2009 Ford

Mustang


2015-2020 Ford F-Series

2009-2014 Ford F-Series

2019-2021 Ford Ranger

2013-2021 Ford EcoSport

2013-2021 Ford Escape

2018-2020 Ford

Raptor


2013-2019 Ford

Fusion


2005-2019 Ford Focus

2008-2013 Ford

Fiesta
Jeep Stripes, Jeep Decals, Jeep Vinyl Graphics - The MoProAuto Original "Pro Design Series"
Kia Soul Stripes, Kia Soul Decals, Kia Soul Vinyl Graphics - The MoProAuto Original "Pro Design Series"
Toyota Stripes, Toyota Decals, Toyota Vinyl Graphics - The MoProAuto Original "Pro Design Series"
More Automotive Manufacturer Stripes, Auto Decals, Vinyl Graphics