Featuring Speed Graphics Vinyl Graphics, Decals, and Stripe Kits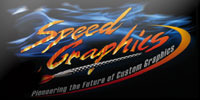 * Speed Graphics kits are wild, bold, colorful designs that have a custom paint look without the custom paint price. Speed Graphics is located in Asheville, NC, was formed in 2001, and operates out of a new 4,600 square foot facility. Speed Graphics manufactures digitally printed graphics for the Automotive and Motorcycle industries. Featuring the "SlamWrap" Vinyl Graphics Line!
Affordable Vinyl Graphics with an "Expensive" painted design look!
"Stop-them-in-their-tracks" Designs.
Tribal Designs in our ripped metal look vinyl graphic.
A wide variety of designs, colors, and sizes makes it easy for anyone to find the "right one." Order Now!