Speed Graphics Inc, Slamwrap Vinyl Graphics, Decals, and Stripe Kits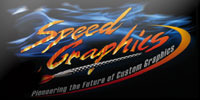 Speed Graphics kits are wild, bold, colorful designs that have a custom paint look without the custom paint price. Speed Graphics is located in Asheville, NC, was formed in 2001, and operates out of a new 4,600 square foot facility. Speed Graphics manufactures digitally printed graphics for the Automotive and Motorcycle industries. Featuring the "SlamWrap" Vinyl Graphics Line!
Slamwrap Vinyl Graphics, Custom Paint without the Paint!
SlamWrap graphics are commonly mistaken for custom paint jobs. They are full color designs and feature very detailed all original artwork on adhesive-backed vinyl. Our Classic Vinyl Graphics are designs that use one or two colors. These designs take advantage of specialty colors and can be sized just about any way you wish. Liquid Touch Graphics is like getting a paint job from a graphics kit. The kit transfers paint from the carrier to your surface. If you want a "no-edge" real paint look, this is it. Note* These cannot be customized in any way and are limited availability.
Affordable Vinyl Graphics with an "Expensive" painted design look!
Find "Stop-them-in-their-tracks" Designs.
Tribal Designs in our ripped metal look vinyl graphic.
A wide variety of designs, colors, and sizes makes it easy for anyone to find the "right one." Order Now!