FAS GRAPHICS Vinyl Graphics Category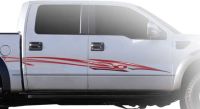 Find a perfect style in vehicle vinyl graphics from FAS Graphics Auto Graphics. Offering a series of features that have a broad range of colors and design options ranging from the classic to the most bold! Choose from many FAS Graphics styles and find your favorite! Browse below to add to your collection!
* This is an exciting time for graphics! We are one of the leading manufacturers in the after market business, with over 20 years experience in designing and installing graphics. We are very much in tune with the desires of the end user and have set many of the new trends you see on vehicles today. Our cutting edge, uniqueness, quality of our products and variety of designs assures that we have something for everyone. At our state of the art facility we have the flexibility to manufacture both large and small runs. Most of our graphics have a standard 3 year warranty from the date of purchase, unless otherwise specified. All our graphics are printed on films with 7 to 10 years Durability. We also use the latest technology in inks and clearcoat. Our inks and clearcoat are water based, which adds to our extreme quality. This allows You the comfort of telling your customers that you are using GO GREEN graphics! Featuring these categories :
OEM ... with Muscle! Add some muscle with these OEM graphics.
OEM ... with Style! There are the two groups in this collection: OEM body graphics which are printed on premium high metallic silver base vinyl and OEM body graphics which are printed on clear base vinyl with a black matte finish.
PLATINUM SERIES - Vehicle graphics designed for the profesional. Platinum Series Vehicle Graphics is a collection of high quality graphics which are designed on premium vinyl with a silver base for a lush metallic look.
WILDWOOD CAMO - The Wild Oak collection features durable camo graphics in 2 great camoufage patterns. Wild Oak, an all purpose pattern, and Oak Breeze, a ground-cover style. The graphics are printed on the highest quality vinyl and are U.V. protected with a matte laminate which will withstand the elements for up to 6 years without fading.
FAS GRAPHICS - Find your style with vehicle graphics from the FAS Graphics Series. The FAS Graphics custom auto graphics collection features a broader range of color options and designs ranging from classic to bold. Many FAS Graphic styles to choose from...find your favorite.
ILLUSIONS GFX - When design means everything, look to Illusions GFX Auto Graphics. Amazing details and truly top-quality materials are at the core of each and every Illusions GFX automotive graphic and racing stripe. Many Illusions GFX styles to choose from...find your favorite.