Featuring Universal Products Vinyl Striping and Graphic Design Kits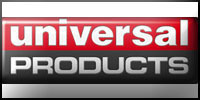 * Since their founding in 1977, Universal Products has dedicated quality, service and commitment to our customers. As an industry leader in vinyl conversions, they strive to be your "Universal" provider. Feeling very confident of their products and the human and technological resources that support them. Confidence comes with commitment, and commitment comes with every product produced at Universal Products. Inviting you to discover why Universal Products is the higher quality and economical alternative. Based in the heartland, staffed by people with a pioneer work ethic, Universal Products answers the vinyl graphic needs of customers representing every industry in America. Our 150,000 square ft. building in Goddard, Kansas houses over 300 employees that support four divisions: Custom Graphics, Roll Labels, Striping & Graphics and Digital Graphics. The diversity of our products and services allow them to strive to be your complete product provider.
Vehicle Specific Graphic.
Automotive Graphics.
Automotive Striping Designs.
Showcasing a variety of designs and sizes, find the right one today! Order Now!